ADOPT-A-PET TORONTO is a partnership between Insidetoronto.com and the Toronto Humane Society.
This week's ADOPT-A-PET TORONTO is Jane, a 10-month-old Harlequin rabbit and Janelle, a 2-year-old American bulldog mix.
If you would like to adopt Jane or Janelle or any other animal, please contact the Toronto Humane Society. They are located at 11 River St., Toronto. Phone 416-392-2273 or click the link below each animal.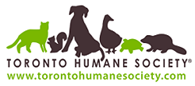 JANE - A 10-MONTH-OLD HARLEQUIN
Pretty Jane is in the building and she cannot wait to find her new best friend! Harlequin rabbits are known for their beauty, intelligence, and social nature!
These rabbits are larger than the average bunny and they have the potential to get up to 10 lbs.
Being a larger rabbit, it is important for Jane that she has a pen large enough to keep her happy and healthy. This pen should be large enough for her to stand on her hind legs if she wants and have room to hop around.
When picking out a cage for your future rabbit, or custom building one yourself, aim for a cage with minimum dimensions of 4'L x 4'W x 36"H. It is also important that Jane receives at least 4 hours of out of cage time every day.
If you would like to learn more about Jane please email specialspecies@torontohumanesociety.com
---
JANELLE - A 2-YEAR-OLD AMERICAN BULLDOG MIX
Janelle is the full package intelligent good looking, active and confident. She has a tendency to not settle for anything less than what she demands, so it is important that her adopter can help her build her manners and patience.
Janelle is having some difficulty understanding that not all food is for her consumption. Like most bully breeds, she is very determined and doesn't get discouraged easily, especially if she wants something. Keeping her out of the kitchen or dining area will help to break her habits.
Janelle will need an owner with excellent handling skills; she is strong on leash and will sometimes grab the leash and start tugging and jumping up at her handler.
Janelle may lunge at people, dogs or even cars. We think Janelle can learn to walk reliably with ongoing training and living in a low-traffic neighborhood.
One thing that we knew all along is that Janelle is a total sweetheart! She has shown her sweet, silly and soft side in her foster home.
If you would like more information on Janelle please email adoptionk9@torontohumanesociety.com
---
PET TIP OF THE WEEK:
Did you know that licking is a rabbit's way of grooming itself and their favourite companion? If your rabbit licks you repeatedly, and you don't have anything tasty on your hands, you've made a real love connection.